Normal Dog And Cat Blood Chemistry And Lab Values
Feline & Canine Blood Chemistry Values,Temperature, Urine and Other Values for Your Dog and Cat
Ron Hines DVM PhD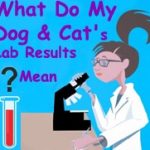 To see reasons your pet's blood chemistry values might be abnormal, go here

For some common veterinary abbreviations, weights & measure, go here
For an update on kidney disease in dogs & cats go here
Reference Values
Deciding what are"normal" test results in your pet is not that easy. Just as in healthy people, no two pets have exactly the same results. So what may be "normal" in one pet may be abnormal in another. When a test result is out of range it needs to be interpreted in light of how your pet is feeling and the problems that brought your pet in for testing in the first place. The two major blood analysis corporations in the USA, Antech and Idexx, though similar, are not identical in the values they consider normal. However, their "normal values" do not vary that much.

You Can Read About The Actual Causes Of Many Abnormal Test Result here.
The normal values given in this color type are taken from some of my patient's 2015-2019 Antech & Idexx Diagnostics Lab reports. In non-emergency situations, request that your pet's blood sample be sent to a national laboratory for analysis rather than performed at your local animal hospital (ref). These large national labs have the staff and resources to insure the most accurate results. They also provide your local veterinarian – at no additional charge – with a backup of university-grade experts ready to offer assistance when test results are perplexing. Read about that here. It is always safest to have an abnormal test result confirmed on more than one occasion before deciding if it is truly significant.
You can see some sample reports as your veterinarian might receive them here and here.
TEST
ACTH Stimulation Test

13.8 – 137.9 pre

151.75 – 469 post (ref)

A/G ratio

(albumin to globulin ratio)

Albumin

Alkaline Phosphatase

(Alk Phos, ALP)

ALT

(Alanine Aminotransferase, SGPT)

Ammonia

(in blood)

μmol/L

2-110

Some give <35.7 µmol/L (50 µg/mL) (ref)

Amylase

(serum)

ANA

(anti- nuclear antibody)

Anion Gap

(serum)

*

AST

(aspertate transaminase SGOT)

Basophils

(Basos)

Basophils

(Basos)

Bicarbonate

Bile acids

Bilirubin

(indirect)
Bilirubin (Total bilirubin)
Bilirubin (Total bilirubin)

Bleeding Time

number per high power field /hpf

Up to 5 some say <3

Blood Pressure

**

(systolic)

mmHg

120-150

124-160

Body Temperature

(rectal) 101 – 101.5 – 102.2 F, 39C

101.5 – 102.2 F, 39C

Breaths per minute

BUN

(Blood Urea Nitrogen) USA/Canada

BUN

(Blood Urea Nitrogen)

Euro/UK

BUN/Creatinine

Total Calcium

(in blood)

Calcium

(in blood)

Chloride

Cholesterol

Cholesterol

Cholinesterase

CK

(CPK, Creatine Kinase)

CO2

(in blood)

15 – 25

12 – 30

Coagulation Time

(glass)

Cobalamin

(vit B-12)

ng/L

Cobalamin

(fasting/A&M GI Lab)

>300 ng/L

Cortisol (resting normal value)

1.0 – 5.0

1.0 – 4.5

cPL

(canine pancreas-specific lipase)

< or = 200

C-Reactive Protein

mg/L

0 – 7.6

Creatinine

Creatinine

Creatinine

(in urine)

CRT

Capillary Refill Time

c

TLI

(

canine trypsin-like immunoreactivity

)

—

D-Dimer

116.2 – 371.5

Eosinophils

(Eos)
Eosinophils (Eos)

Fecal Alpha1-Proteinase

Inhibitor

(α1-PI)

Fibrinogen

Fibrinogen

Folate

(fasting)

7.7 – 24.4

9.7 – 21.6

fPL

(feline pancreas-specific lipase

)

—

< 3.5

Free T – 4

(FT4)

Free T4

(FT4)

Fructosamine

(UofGA Lab)

µmol/L

258-343

Gestation Period

(Pregnancy)

GGT

(GGTP) Gamma-glutamyl transferase

Globulin

(total, blood)

Globulin

(total, blood)

Glucose

Glucose

HCO3

of venous blood

mEq/L

19 – 24

19 – 24

Heart rate

Hematocrit

(PCV packed cell volume)
Hemoglobin (Hg, HgB)

Hemoglobin

(Hg, HgB)
Insulin

μIU/mL

Iron

Ionized Calcium

Ionized Calcium
Iron binding capacity (

TIBC

)

LDH

(Lactate dehydrogenase)

Lipase

Lipase-DCL

Lipase,Pancreas-Specific

Less than 3.5

Lymphocytes

(Lymphs, Lymphos)

Lymphocytes

(Lymphs, Lymphos)

Magnesium

(blood)

Magnesium

(blood)

MCH

(Mean Corpuscular Hemoglobin)

MCV

(mean corpuscular volume)
Mean corpuscular Hgb concentration (

MCHC

)

Microalbumin (urine) Urine prot/creat ratio (UP/C) is a better test

Monocytes (Monos)
Monocytes (Monos)



Myeloid/erythroid ratio (M:E ratio)

Myoglobin

as abnormal blood or urine finding

–

Neutrophils

Total BANDS, stabs, immature and mature granulocyte forms

Neutrophils, (Bands,stabs,immature granulocytes)

Neutrophils

(segs, matures, Polys, granulocytes)

Neutrophils

(segs, matures, polys, granulocytes)

Osmolality

, calculated (of blood)

PCO2 of venous blood

mm Hg

PCV

(packed cell volume, hematocrit)

pH

(of blood)

pH

(of urine)

Phosphate

Phosphorus

Phosphorus

Phosphorus

Platelets

estimated

Platelet Count

Platelet Count

Potassium

Pro:Creat

(urine) (protein:creatinine ratio) = UPC

Protein

(Total, blood) TP

Protein

(blood plasma)

Protein

(in blood serum)

Protein

(total amt in urine)

Prothrombin Time

PTH

(parathyroid hormone)

PTH

(parathyroid hormone)
PTH (parathyroid hormone) N-terminal

Pulse

RBC

(red blood cell count, erythrocyte ct )

In million cells/mcL Or cmm

RDW

(red cell distribution width)

Respiratory rate

Reticulocytes

Reticulocyte

Count

SDH

(succinate dehydrogenase)

SDMA symmetric dimethylarginine

μg/dL

0–14

0–14

Sodium

(in blood)

1.015-1.050

Antech

1.015-1.045 IRIS & Idexx
1.040-1.065 Osborne

1.015-1.060 Antech
1.035-1.060 IRIS & Idexx 1.045-1.085 Osborne

Spec fPL

0.1 – 3.5

T 3

T 4

TCO2

(

~

bicarbonate

)

mEq/L

17 – 24

TIBC

(Total iron-binding capacity)

235 – 495

TLI

(Total lipase immunoreactivityfasting)

5.7 – 45.2

Total Protein

Total Protein

(in urine)

Triglycerides

TSH

(cTSH)

Urea Nitrogen

(Blood urea nitrogen, BUN)
Urea (the entire molecule as often measured outside of N. America. (approx 2 x BUN)


Uric Acid

Urine

Protein:creatinine ratio

(UP/C)

UPC

< 0.2 – 0.4

< 0.2

WBC

(white blood cell count, leukocyte count)

Cells x 103 /cubic mm of blood = /µL

WBC

(white blood cells found in urine)

Per High Power Field = /hpf

Whole Blood Coag-Time in Glass
TEST

*Ettinger gives normal base excess as -5 to 5 mEq/L

** results obtained on one machine can not be compared to another (ref)
DxMe
You are on the Vetspace animal health website