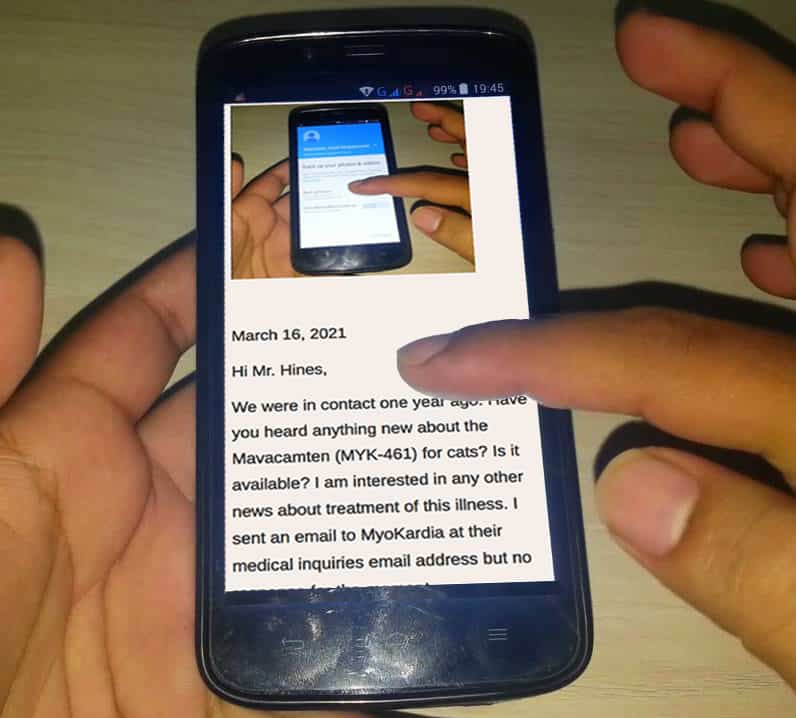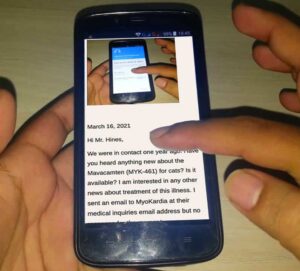 *******************************
March 16, 2021
Hi Mr. Hines,
We were in contact one year ago. Have you heard anything new about the Mavacamten (MYK-461) for cats? Is it available? I am interested in any other news about treatment of this illness. I sent an email to MyoKardia at their medical inquiries email address but no response for the moment.
En miércoles, 17 de marzo de 2021 03:10:57 CET, Ronald Hines <yourpetsfriend@gmail.com> escribió:
Hello Mr. L.    Unfortunately none of my veterinary publications or Internet sources have mentioned that MYK-461 is yet available on the open market. From time to time I receive emails like yours searching for this medication for their cat and I always ask the people who write to me to please let me know if they find a source. None of them have ever written back to me that they were successful in obtaining any.  Best wishes, Ron Hines
March 17, 2021
Mavacamten has been in tests in France since 2020. (see here)  MedChemExpress in the United States sells Mavacamten (synonyms: MYK461; SAR439152) but for research purposes only. Not for individual patients. The company, MyoKardia is now part of Bristol Myers Squibb. The drug is still in phase III of IV human trials.
Sincerely, Cordialement  G. L., Nantes, France
You are on the Vetspace animal health website
Visiting the products that you see displayed on this website help pay the cost of keeping these articles on the Internet.