Dog Owner's Galliprant® Experiences
Ron Hines DVM PhD

Back to Galliprant® Article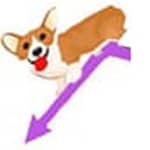 My comments in Purple Follow-up emails in Green
*************************
September 11, 2023
My 12+ year old border collie, Zen Dog (19.5kg) started 30mg/ day Galliprant because of mild arthritis with the view of easing his discomfort during physiotherapy. To that point I had given him loxicom/metacam on an ad hoc basis. But after one instance of giving it on 4 consecutive days, on day 4 he began to show signs of gastric pain so I decided it was time for looking for a long term medication.  My vet encouraged me to try Galliprant. I saw no change of any sort until day 7 when my dog was suddenly markedly brighter, seemed more comfortable when moving and the lameness he'd had for some time was no longer apparent. After 3 weeks we started physiotherapy. There was a gentle, steady improvement generally until after the 3rd fortnightly (1F=2wks) when he became sore and rather depressed. My vet dialed down the physio, and since then he is back to feeling much better and had no signs of discomfort or lameness. Now in month 4, the lost muscle in his hindquarters has much improved, he rarely shows signs of stiffness after periods of rest and he no longer has reactivity of any sort during manipulation or massage. There has definitely been a marked improvement in his comfort level. I don't know how much is due to the medication Vs the physio and I still notice signs of mild discomfort if I've allowed him to do too much. I've noted that many people state they give Galliprant with food when it's clearly stated that it needs to be given on an empty stomach. I leave 2 hours either side of his dose but do give it in a small cube of meat as otherwise I'd have to put it down his throat which is easy enough but I'm no longer willing to subject him to that. 
Regards,  B.R. Wiltshire, UK
9-14-23 As you guessed, I'm in the UK. Interestingly, my boy had a physio treatment last Friday and hasn't been quite himself since. He had laser treatment and some massage including his intercostal muscles which he really enjoyed at the time since he literally fell fast asleep at the end, but seems to have triggered soreness afterward. I plan on assessing him on today's walk and contacting the physio if he's still showing any discomfort. I admit that I do pick up on the slightest signs he displays and that he's in very good shape for a dog of his age, but my aim is to keep him as comfortable as possible using as few drugs as possible. B.R.
*************************
January 23, 2020
My elderly min poodle mix, Shuli,  (~12 yrs old) started taking Galliprant the end of December for her arthritis pain. She has had an anal sac tumor for about a year.  It has not bothered her much and has not changed. Chest and abdominal. X-rays were negative for any gross [metastasis] last May. Shuli 's life radically changed when mom died– she was constantly on mom's lap when she and I were not out walking, she had tons attention from caregivers coming and going etc. Our home is very quiet now and Shuli is grieving.  The tumor has also enlarged and becoming very uncomfortable.  It notably worsened since starting on Galliprant.  Is there a connection and would it be best to stop the Galliprant?  It does help with her pain and she can walk more and further with it.  I weaned down to every other day now. I gave it last night and she vomited at 3 am this morning. She weighs 12.6 pounds and they have her on a half tab four times a day. The bottle says 20 mg — so not sure if she gets a full 20 mg in the half tab, or it is a half tab cut in half and she is only getting 10 mg. I am always leery of new drugs until they are on the market longer, but she was getting uncomfortable using just CBD and natural anti-inflammatories.  Rimadyl® rips up her gut and she has never tolerated it since we got her 5.5 years ago. She was a puppy mill mom. She is so sweet.  I will be devastated to lose her too.  And I feel so guilty for not having the surgery done earlier.  The vet did labs on Monday and they are all normal at this point except protein a bit high.  Thank you for any response.
Nancy 
Dear Nancy,
First call your vet and get specific instructions as to how much of a 20 mg Galliprant tablet they want you to give and how often they want you to give it. The Galliprant label states that " 8-15 pound dogs should receive 0.5 (one half) of a 20 mg tablet once a day. It also states that the most common side effects are vomiting, diarrhea and decreased appetite.  Read that label  here: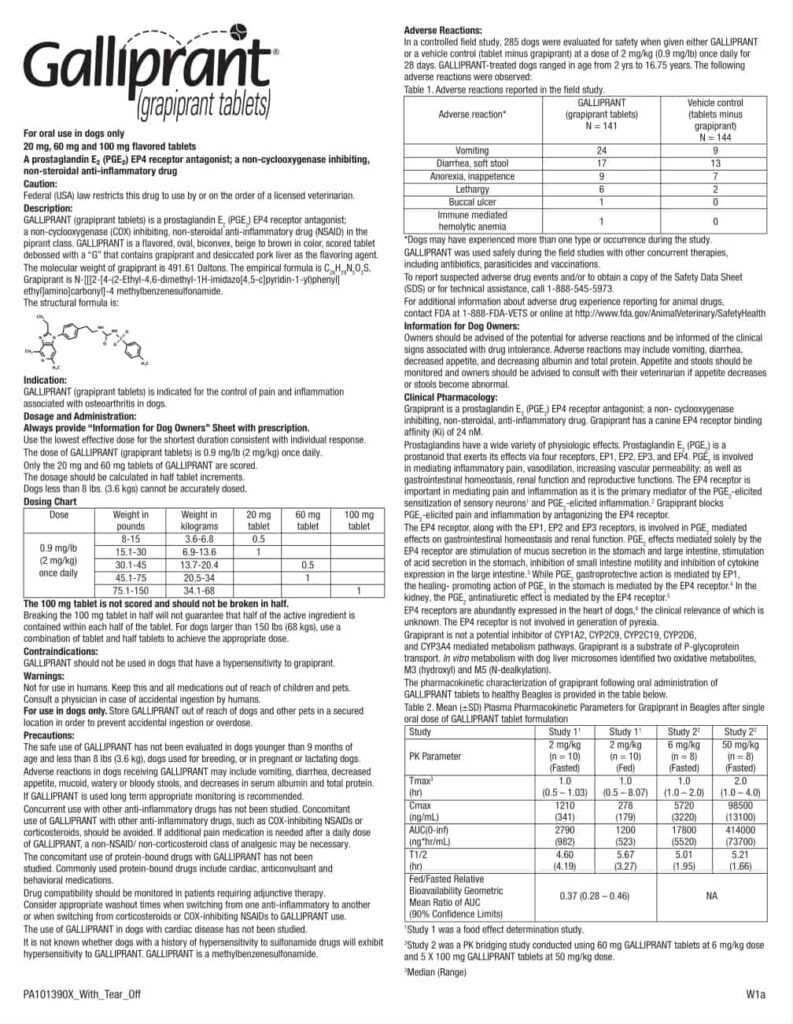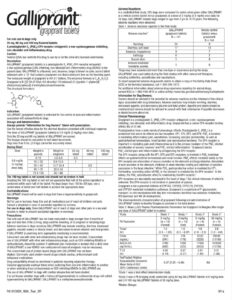 As far as a connection between Galliprant and her enlarging anal sac "tumor": Galliprant is an NSAID. All NSAIDs have the potential to inflame the digestive tract. Chronic inflammation associated with giving NSAIDs has been implicated in digestive tract tumor formation (ref) ; but I have no idea if that has any bearing on the growth of Shuli' s anal tumor. 
*************************
April 22, 2019
I took my dog to [my veterinarian] last week.  [She is a] 13 yr/o spayed female, 35-pound terrier mix.  It was determined that she has some arthritis.  She had been having trouble getting around as evidenced by her back legs and was in visible discomfort.  She can no longer jump up or run.  [The vet] prescribed Galliprant to help with the pain and inflammation and said that in a few days I would probably see a whole new dog.  I took her back to the vet today [ ] because over the weekend I noticed that her abdomen was swollen.  He ran blood work and ultimately told me that it was fluid in her belly and that she was in the beginning stages of liver failure.  All of her other blood work was fine.  She has no prior of history of problems.  She was fine on Wednesday other than the arthritis and discomfort and by Saturday she had a swollen belly. I understand that she is old, but I truly believe that the medication is what started the issue with her liver. I have stopped giving her the Galliprant now.  We will see if she shows improvement.  I would warn others to consider if this is the right medication for their pet.  [ ]  I understand that pets react to things differently.
M. V. E., Sioux City, Iowa

*************************
February 16, 2019
My dog has been on Galliprant 100 mg for over a year of daily use.  He tolerates them well.  We have had some elevated liver enzymes come up in a couple blood tests we have had.  Have you had anyone say [the] liver is harmed by this medication?  Would like to know if others have [had liver] issues.  My vet does not think the medication is the cause?  But I don't know?
Thanks
N., Sent from my iPhone
Since Galliprant is not currently a human-licensed medication, controlled independent studies are sparse. To the best of my knowledge, none of the 12 published articles on grapiprant (Galliprant) use in animals mention any effects of the drug on liver enzymes or that those enzyme levels were even monitored. Almost all of those studies were funded by the manufacturer. The EMA states, regarding documents submitted for Galliprant's European licensure in 2017, Furthermore, no treatment-related effects were found on liver or kidney function, or gross or histopathological findings of the liver, kidney, or stomach or in any coagulation parameters. Other non-steroidal anti-inflammatory medications in the same general group as Galliprant do on rare occasion do affect the liver. (read here) 
*************************
January 29, 2019
My 11 year old Bichon was given Galliprant 20 mg last Monday, January 21, 2019. Took the dose for 3 days and got sick while we were traveling out of state. By Saturday, January 26, 2019 we had to take him to emergency veterinary with liver damage. He went into major complications while there and had to be put down that evening. We lost our dog because of this drug and are sad and angry.
N. S.
Sent from my iPhone
*************************
December 29, 2017
Hello Dr Hines,
I read your article on Galliprant with much interest because my dog has been taking it for off and on for several months and I have been unsure as to whether I should continue it. This is our story:
My dog Sydney is an 11 yr old mix breed (cattle dog, hound, Shepherd), neutered female. []She's had hip arthritis for several years. She was on meloxicam intermittently and then continuously (every other day) for a couple years when we discovered she had a very high creatinine (2.7) that returned to normal (1.4-1.5) [when discontinued]. Although it was never proven to be caused by meloxicam[]. After taking part in a drug study for arthritis at NCSU early this year [chew containing fish oil supplement] – may have been placebo and didn't do anything for her), the Vets gave her a 30-day supply of Galliprant. It was unclear if it was working so I did not continue it. But then started giving it to her again in late summer when her hips seemed to flare up. [] It does seem to help to some extent and she's been taking it every day for a month, in addition to 200 mg gabapentin BID (for hip and back pain). Recent (last week) bloodwork shows her creatinine slightly elevated at 1.6. All other labs (liver) were normal. I am debating whether to continue it further because it does appear to help somewhat (not as much as meloxicam) but I worry about her kidneys. 
Many thanks, D., Apex, North Carolina
*************************
October 29, 2017
Ron,
Your article on this medication was fascinating. Gives me a solid understanding of what am giving my dog.
My 10 yr old, 42 lb , neutered male G. Shepard/ridgeback, Scout, started taking Galliprant 3 weeks ago, I think the medication has been very effective. He hasn't taken any previous medication for his arthritis. Prior to taking the meds. he didn't want to jump into the car or on beds. Sometimes he would just flop down in the driveway and refuse to get in the car. Frankly, within 10 hrs. I noticed an improvement in his mobility and attitude. Three weeks out he doesn't hesitate to jump up onto things and he is playing with other dogs with enthusiasm. Pretty impressive results. Today I did notice some of the side effects you mentioned. His bowels were loose and mucous was present and there was a greenish cast to them. It isn't clear to me if the
side effects can be expected to abate or not, He hasn't had any blood work nor use an activity monitor.
Thanks for the informative piece.
A.L., Sacramento, California
*************************
September 7, 2017
Galliprant has made a huge difference in my (westie) Gracie,
Gracie will be 9 in December.   She was diagnosed with chronic immune mediated polyarthropathy [autoimmune disease] about 2 years ago. .  Her front legs bowed, especially at the elbows/knees and her toes on the front legs are spread apart.  She was put on tramadol and prednisone, which help a little, and a brace.  Then a friend told me about PT [Physical therapy] for dogs. She's been going to PT weekly for a several of months, receiving PEMF therapy, class iv therapeutic laser in all her legs and water-walking treadmill.  That helped her get some strength back in her legs and improved her motion slightly. Dr **** told me that Galliprant would be available this year   After being off prednisone and tramadol for 2 weeks, she began, using Galliprant. I saw a slight improvement in her movements by the end of the first week. She been on the Galliprant for about 2 months.  She's a new dog!    She still has the problem caused by the disease, but she's back to being more active – like before this problem developed. Gracie has a dog stroller for her to use whenever she needs.  We use it after coming back from PT.   I bring her to the house, it's a long walk, in the stroller and park it beside the bed so she can get out when she is ready. [] Then a couple of weeks ago, she was feeling so good, that she decided to jump out of the stroller to the floor.  Luckily I still had a leash hooked to her harness and was able to help her down.   Now she's playing with her star, again, before bed, putting her front feet on someone legs.  Most people don't want their dogs jumping up to do that, but I glad she's feeling good enough and the vet office and my friends are happy she can do it again too. Lately she's been scratching.  I sure hope it's not related to the Galliprant.  The antibiotics don't seem to be working, so we will be going for a follow up appointment today. Linda
*************************
September 5, 2017 
Hello, Ron,
Well, I need to revise my report to you.   Here's what happened…
After a couple days without any meds, his limp increased about 90%, so we initiated Gabapentin. Again, no reduction in pain.  It got so bad he would lift his foot when standing in the house, even on non-walk days.  We added 200 mg of Tramadol for two days and it was apparent when the Tram would wear off after several hours.  SO…….I put him back on Galliprant, and his pain level is back down 90%….and I'm NOT exaggerating.  I now know clearly how painful that foot is without NSAIDs.  
I have an appt next week at UC Davis with their Integrative Med section, just in case they can recommend any other pain regimen, such as acupuncture.  Plus, they would refer him to Ortho if they think the foot needs reevaluation. Thus, I was simply too cavalier about "save his liver and let him live with the foot pain".  Now that I know how painful that foot is, I'm certainly on board with the perspective that mitigating the foot pain is more important than his liver values. There might be additional alternatives, such as surgery, but right now, at 12.5 YO, his moment-to-moment to comfort is a critical requirement for going forward. G-R. G.
*************************
August 27, 2017
Thanks you for your comprehensive article on Galliprant.  You asked for feedback on Galliprant use…be careful what you wish for. My 12.5 YO lab has displayed a limp for 10 months, I believe from an injury (his ramp fell off the truck door rim and both the ramp and dog dropped hard.) He was initially diagnosed with a soft tissue injury.  I was told that an X-ray wouldn't be an effective diagnostic tool and that I should try rest.  At the same time, he was being treated over several months for the effects of intubation-induced esophagitis and laryngeal ulcer, was on high doses of tramadol and gabapentin, so his limp was way down on the treatment list. After weaning off the esophagitis meds, and when repeated cycles of rest didn't reduce the leg pain, the diagnosis was changed to arthritis, I was given Rimadyl. Since he's one of the dogs with liver impacts of NSAIDs, we tested him after a couple of months, and his liver values were elevated.  We switched him to Galliprant, and after about a month, the liver values increased further.  In addition, after walks/running after squirrels, and then a couple days of rest, his limp was still noticeable….not serious, but he's been labeled as very stoic by his doctor. Since the he's been receiving glucosamine for 10 years, I recently insisted on an X-ray to confirm the arthritis diagnosis.  The X-ray showed no arthritis in his shoulder or knee, but some arthritis in his foot – two toes and a fractured palmar sesamoid.  I suspect the sesamoid fracture is causing the pain as the onset corresponds with the ramp fall. G-R. G.
You are on the Vetspace animal health website
Visiting the products that you see displayed on this website help pay the cost of keeping these articles on the Internet.