The Long Arm Of The Texas State Board Of Veterinary Medical Examiners & The American Veterinary Medical Association

Ron Hines DVM PhD
It is 2020. Because he is licensed in Texas, Dr. Hines is still bared from commenting on your pet health concerns. However Oregon is considering becoming the first US state to make veterinary telemedicine legal for veterinarians licensed in Oregon.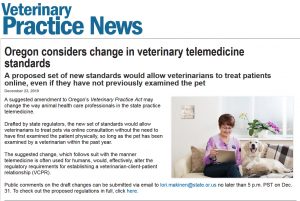 For over 17 years , pet owners, concerned about their pet's failing health had emailed Dr. Hines for advice and support. Some paid him, most did not. But he answered every email and attempted to give each of them wise counsel and a sympathetic ear during their difficult times. Many became his lifelong friends. For now, he can no longer do that.
Dr. Hines is a Texas-licensed veterinarian in good standing and an "Honor Roll " member of the American Veterinary Medical Association. Providing you with a source of honest, thoughtful information over the Internet on treatment options for your sick pets has become his life's work.
But now he needs your help. His online articles and availability have earned him the hostility of some short-sighted veterinarians. Those veterinarians are now attempting to disable his website through the use of the Texas State Board Of Veterinary Medical Examiners. You can help him prevent this by contacting the Board. Ask that your comments be recorded in his file and ask for a response to any questions you ask. Forward a copy of your email to Dr. Hines – and to the AVMA as well since the Board's administrators, now blames the AVMA. Let both of them know that your right to information and you right to make informed health care decisions for your pets are absolute and that neither of them have a mandate to interfere or meddle with private email conversations, what you can or cannot view on the internet, or whom you choose to correspond with. Tell them of the need and desirability of "distance" veterinarians you can lean on in times of trouble and doubt. Forward this page to your animal-loving friends.
The Texas Board of Veterinary Medical Examiners is not suggesting that any of the health care information Dr. Hines provides to you is wrong or inaccurate. They are stating that the simple fact that he corresponds with you over the Internet on pet health issues is a violation of Law and, ultimately, cause to revoke his license.
But Why Is The Texas Board Of Veterinary Medical Examiners Doing This?
The electronic age has changed many norms in American society. In the 1960s, traditional small animal veterinarians were sole proprietors who enjoyed comfortable incomes, high prestige and high job satisfaction. But over the years since then, mega-corporations like Banfield and VCA have displaced many solo and small-group veterinary hospitals, internet and telephone pharmacies like 1-800-Petmeds have eroded animal hospital sales of pharmaceutical income and new vaccination guidelines have reduced your vet's vaccine income. The number of pet-owner visits to animal hospitals in the US began to significantly decrease in 2009, as did veterinary hospital incomes. This is occurring despite the number of pets in the USA increasing over the same period. A second in-depth study by Bayer Inc. found three causes for this decline: the poor economy at the time, fragmentation of the marketplace and the availability of online/Internet information to pet owners. (ref) It is an unfortunate fact that many veterinarians find this powerful flow of information ("Dr. Google") threatening. (ref) Vet faced the same panic over 100 years ago when draft horses (work horses), their main source of income, were being replaced by mechanical tractors. (ref )
Why Did The Board Single Out Dr. Hines?
Companies like JustAnswer, answer veterinary questions online just as Dr. Hines does. But JustAnswer puts a protective corporate buffer, attorneys and anonymity between the veterinarians providing the answer, the pet owner and the State Boards. Dr. Hines does not. The Texas Board is particularly aggressive (ref) (and often tone deaf to the needs of pets) (ref). Dr. Hines resides in Texas; JustAnswer is based in San Francisco – farther from their control. Dr. Hines's gross revenues from his website activities were less than $2,500 per year. JustAnswer had an estimated gross revenue in excess of $16,000,000 a year in 2015. They claimed to answer a veterinary question every 9 seconds. It may have been tempting for the Board and the AVMA to vent their frustration at sliding veterinary incomes against a target like Dr. Hines whom the AVMA and the Texas Board assumed (correctly) did not have the financial resources to fight back.
The History And Power of Veterinary Boards
Guilds have existed since antiquity. America was rather late to the game. It was not until the late 1700s that Richard Peters, a Philadelphia veterinarian, proposed that veterinarians band together for the communal common interest. Every state and entity in America (57) now has a veterinary board. Their policies generally follow the guidelines of the American Association of Veterinary State Boards and the AVMA's " model" practice act. There is great variation in how these rules are interpreted and enforced but, like any effective union, it is the welfare and livelihood of their members, not animal welfare, that guides policy decisions.
Is It The Texas Veterinary Board Alone That Is Trying to Silence Dr. Hines?
No. According to the AVMA's 2015 president, Douglas Aspros, the American Veterinary Medical Association fully supports the action of the Texas Veterinary Board in censoring Dr. Hines. (you might want to remind them that their supposed goal is "the relief of animal suffering" – not the maximization of profits for a select group of their chosen veterinarians and corporations.) On July 19, 2013 the AVMA's house of delegates passed a resolution opposing any form of "remote consulting" (via the internet,phone, letter,etc.) between an American veterinarian and a pet owner any where in the World. But the AVMA conveniently agreed that it was OK – provided the pet owner first paid a local veterinarian for the privilege, by establish a "veterinary-client-patient" relationship (VCPR) with the local vet and then having the local vet (for a fee) "chaperone" the contact between the pet owner and the online or distant veterinarian. The only delegates not to go along with this charade were those from Hawaii and Alaska. (ref) In 2018, an emissary from the AVMA contacted Dr. Hines to ask what it would take to have him drop the IJ lawsuit a prestigious committee assignment or perhaps a donation to his website were mentioned.
The Basic Questions:
Do Freedom of Speech, Freedom of Association and Rights of Privacy supersede Texas State regulatory authority?
Can Dr. Hines be prevented from communicating electronically with the Public?
Can his communications be censored?
Are his personal emails open to outside scrutiny and governmental inspection?
Does anonymity of contact between the public and a veterinarian through third-party participation, as found all over the Internet today, shield a veterinarian from regulatory control? What about services like this or this that do just that? Can government rules be enforced unequally? Is singling out the small over the large and powerful true to the entrepreneurial spirit of Texas?
Does proposed control of Dr. Hines' personal inclinations to help pet owners and animals in ways he sees fit really fit the stated mandate of the TBVME? That mandate is " to protect the public by ensuring that persons entering the profession meet minimum academic and examination requirements" ?
Does their mission to "ensure the best possible quality of veterinary services for the people of Texas" (ref) allow them to censor Dr. Hines' correspondent with animal owners throughout the entire World?
Can a disabled veterinarian be prevented from participating in his chosen profession in ways that accommodate his disabilities?
Do we really want an arm of Texas Government muzzling what they consider to be a "dissident" veterinarian, and using methods similar to the house arrests practiced in places like North Korea and Iran?
Ms. Oria, the 2015 head of the Texas Veterinary Board (She and most of the Board were asked to resign in 2016 – and did [ref] But the ban on Dr. H remains in effect), stated that Dr. Hines is "banned from offering an online opinion on anything that has to do with animals". (Ms. Oria was later fired for other perceived inadequacies) What does it say about the integrity of a state government that displays, on its own website and whose operators give out, Dr. Hines' phone number and email address for medical advice on non-domestic injured animals only to punish him for responding if it should be a dog or cat? (coyotes,fox and bobcats are OK) (ref) According to Texas, you can ask your hairdresser all you want to about your dog or cat's health – but you can't ask Dr. Hines.
You are on the Vetspace animal health website