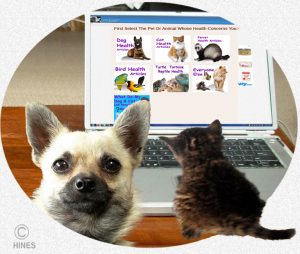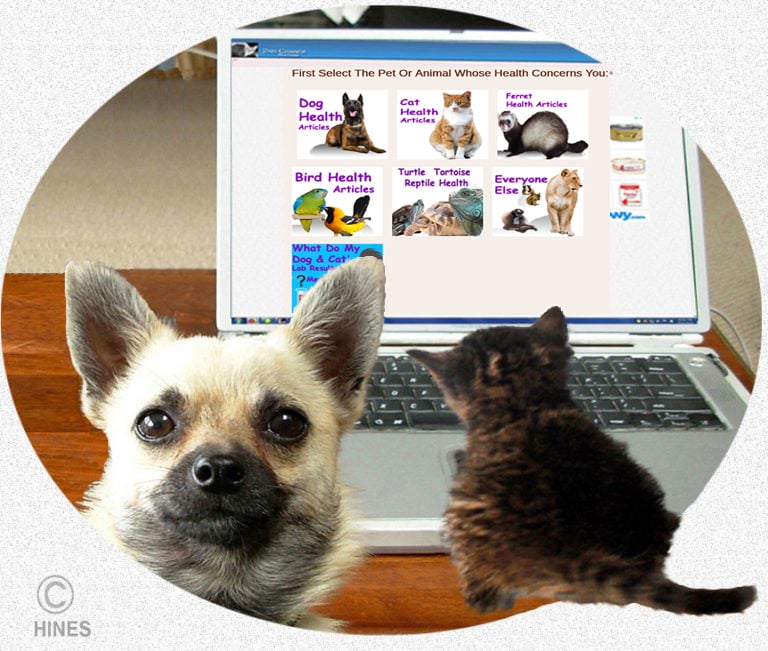 Terms Of Use For All Readers Of This Website
Dear Viewer,
There is no substitute for direct, hands-on examination of your pet. Dr. Hines resides in Texas. Texas Rules of Professional Conduct, Article 573.9 provide that a "consultant" can only give pet-specific advice through an attending, local veterinarian – not to a pet owner directly. So, he will not be your "consultant" as defined by that law, nor will he be engaged in the "practice" of veterinary medicine as defined by Texas law.
Dr. Hines' articles may give you information applicable to pets with a medical problem similar to your pet's problem. If you have questions regarding the information and treatment options given in his articles, SPECIFIC TREATMENT DECISIONS MUST BE MADE BY YOU AND YOUR ATTENDING, LOCAL, VETERINARIAN.
Please note, in keeping with the wishes of the Texas Board of Veterinary Medical Examiners, Dr. Hines' services will not include "specific diagnosis, treatment, correction, change, manipulation, relief, or prevention of animal disease, deformity, defect, injury, or other physical condition, nor the prescription or administration of a drug, biologic, anesthetic, apparatus, or other therapeutic or diagnostic substance or technique or the ability or willingness to do so".
By reading this statement, you agree to indemnify and hold Dr. Hines harmless for any costs arising as a result of your use of his services or as the result of your reading his veterinary articles. Because he does not actually get to examine your pet, a doctor-patient-client relationship will not exist between you and Dr. Hines, and it is not his intention to establish a veterinarian/client/patient relationship or engage in the practice of veterinary medicine as defined by Texas law. He offers his service to help you understand diagnosis and treatment options available to you THROUGH YOUR LOCAL VETERINARIAN. Because he cannot see your pet in person, you must consider the information he provides as no more than his personal opinions as an educated counselor on pet health issues – NOT AS YOUR ATTENDING VETERINARIAN. His services are informational only and not meant to be a substitute for local, traditional or emergency veterinary care for your sick pet or necessary visits to your local veterinarian for diagnosis or treatment.
Dr. Hines writes his articles to the best of his abilities, based on his experiences and knowledge. However, please understand that HE TAKES NO RESPONSIBILITY WHATSOEVER FOR – AND MAKES NO WARRANTY Regarding RESULTS THAT MAY BE OBTAINED FROM THE USE OF ANY OF HIS WEBSITE FEATURES, PROCEDURES OR RECOMMENDATIONS CONTAINED WITHIN HIS ARTICLES. He present these articles solely for informational purposes, and THESE ARTICLES DO NOT REPLACE LICENSED, HANDS ON, PROFESSIONAL, PET-SPECIFIC, VETERINARY CARE. If you need recommendations as to veterinary facilities in your area, please contact your local SPCA or call the American Veterinary Medical Association at (847) 925-8070 or email them at: avmainfo@avma.org or check the American Animal Hospital's Healthy Pet Locator.
The information in all of Dr. Hines' articles are subject to interpretation, and no two pets will react exactly the same to any form of treatment. If you have any questions about the information contained within, especially as to decisions you may wish to make concerning the health or well-being of your pet, PLEASE CONSULT YOUR LOCAL VETERINARIAN.
If your pet is seriously ill and especially if there is a potentially LIFE-THREATENING EMERGENCY involving your pet, DO NOT WAIT. TAKE YOUR PET IMMEDIATELY TO A TRAINED VETERINARIAN OR ANIMAL EMERGENCY CENTER IN THE CITY IN WHICH YOU LIVE.
Dr. Hines' Articles on Dog Heath, Cat Health, Ferret Health, Pet And Wild Bird Health, Turtle, Iguana And Snake Health, Wildlife, Zoo and Exotic Pet Medicine and Health and Wildlife Rehabilitation 
You are on the Vetspace animal health website
Visiting the products that you see displayed on this website help pay the cost of keeping these articles on the Internet.