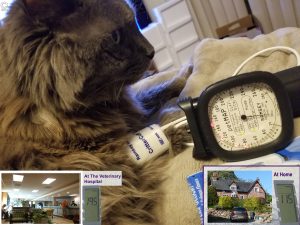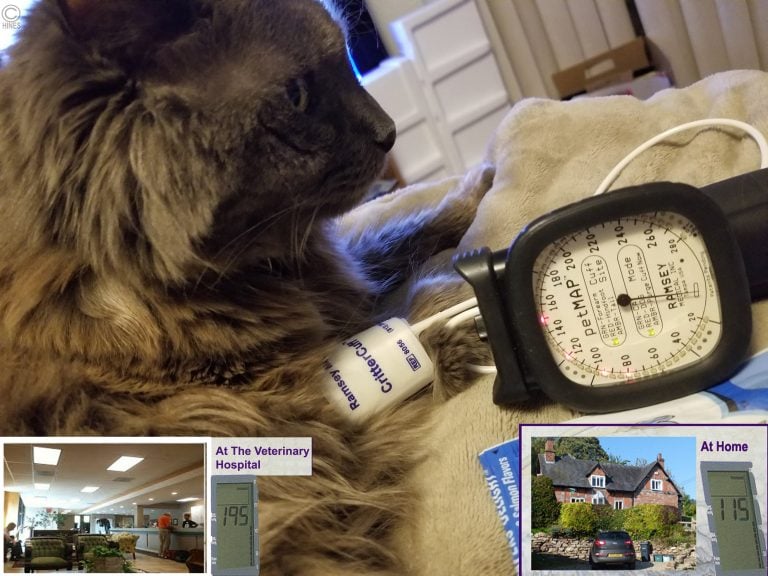 Inaccurate Cat Blood Pressure Readings At Your Animal Hospital?
It is not only the accuracy of cat blood pressure readings at animal hospitals that is questionable. Issues exist when determining if your dog's blood pressure is too high. Read about that here. RSH
By Neal Siniakin

Inbox to me 3:40 AM (11 hours ago)
From: N***–Subject: Wrong At-Vet Blood Pressure Reading by 80 points due to fear
Ron:
You know that Gilbert is taking amlodipine for his "high blood pressure". He takes 0.625 mg morning plus 0.625 mg evenings.

Gilbert's blood pressure tests 180 – 210 at the vet. He does shake which can effect the reading. I bought a quality device. They sell for $1500 to $2000, but are worth owning and home testing. I have studied their use carefully and get the same results as Dr. M*** does when Gilbert is at his office – 180 to 210. I mention this because of the 70 point gap.

I'm buying from Wedgewood in New Jersey. I may try Best Pet Rx in New York. Having a vet come to my house as you suggested didn't work. She scared him and held him tightly. So I bought a $80 Contech AO Vet. It didn't work so I returned it. They have $300-$600 models that I didn't try. I didn't care for the doppler I tried out. So I bought a Petmap by Ramsey rebuilt for $1200 from 2007 with a one year guarantee. Auto ones are $1700. Mine, albeit 2007, is supposed to be as good but a pump up model because Dr. M*** has that model too. I would have otherwise bought the new 2019 auto for $1700 instead. I still may get the automatic. I have a 30 day trial period.
Perhaps your readers could buy and share one if nearby each other, or in a club, or a loaner or rental. It takes two hours to learn and practice. I was shocked and believe in avoiding over treatment. Maybe Gilbert doesn't need amlodipine at all.
I wrote out detailed instructions on testing, if you would like them.
Happy New Year to Gloria and you.
N***
Sent via the Samsung Galaxy S8+, an AT&T 5G Evolution capable smartphone
*******************************************************************************
Fri, Jan 10, 11:25 AM (2 days ago)
to me
Don't go to any trouble on the article. I know you are very busy re-coding your website. I replaced the BP draft you sent me with this. Feel free to use what you have now, or replace it with this, or modify anything in any way as you wish: I told Ramsey Instruments/ Petmap you might post something mentioning their tester with photos. I stopped the Amlodepine Wednesday. and Gilbert has remained at 135 for the past 2 days with 7 tests in the morning and evening. I'll check it daily. Dr R., my vet, agrees that an 80 point differences (elevation) in blood pressure readings is common for cats when taken at the veterinary hospital. Regrettable for that major error, but veterinarians don't currently have a way to correct this issue. I suggested that veterinarians rent accurate blood pressure meters to their pet-owning clients or set up a take-home loan program so pet owners could take the meters home and test their pet's BP in a less stressful setting.
Best regards to Gloria and you.
Neal
Sent via the Samsung Galaxy S8+, an AT&T 5G Evolution capable smartphone
You are on the Vetspace animal health website